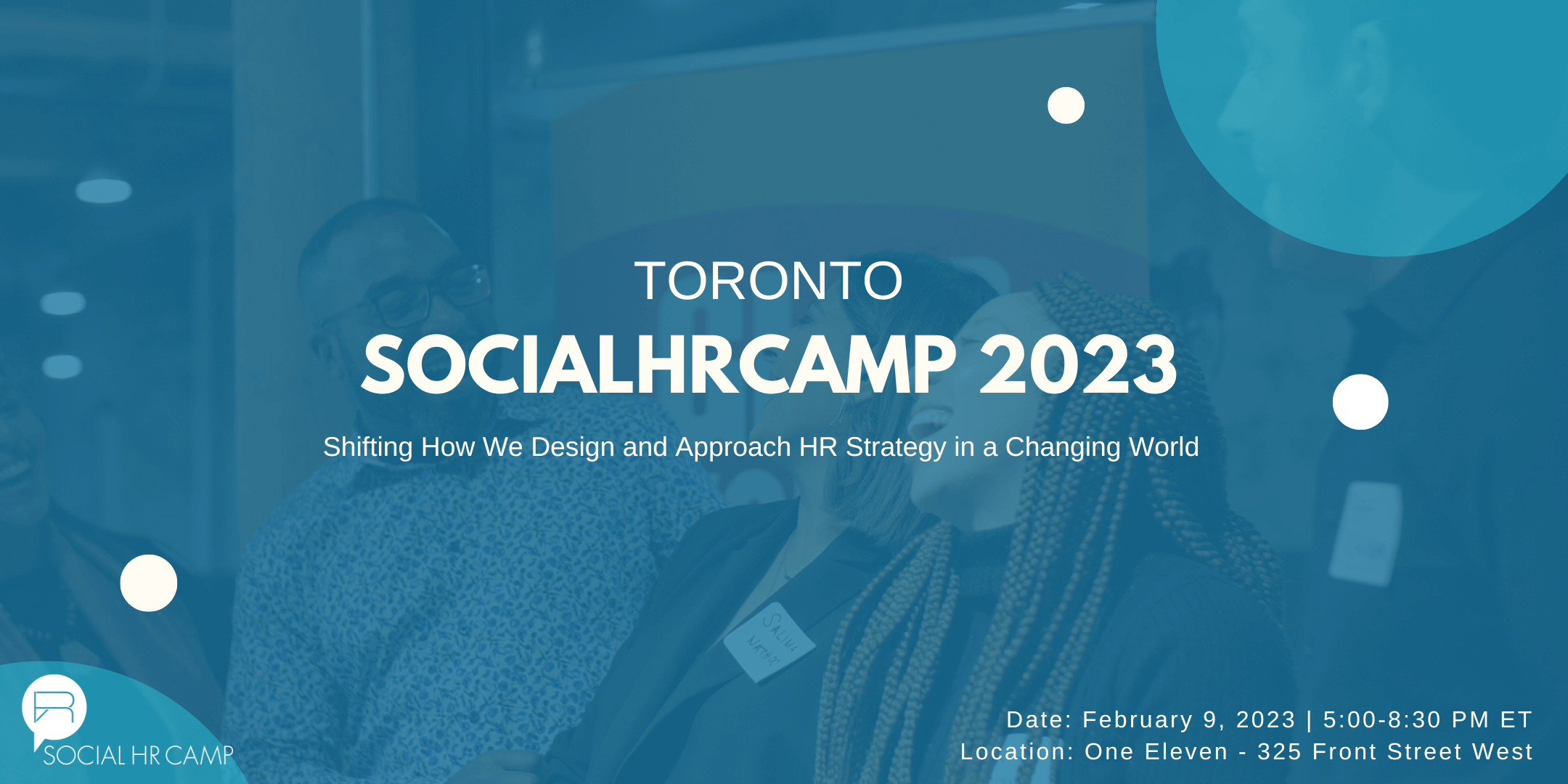 SocialHRCamp Toronto 2023
It has been a long 3 years since our last SocialHRCamp in Canada, specifically SocialHRCamp Toronto 2020. We're really excited to be back and to bring the Toronto HR Community together for an amazing evening of learning and networking. It's an understatement that the world of work has drastically changed since the pandemic started in March 2020. We have seen a massive proliferation of technology, more distributed teams across multiple timezones, the traditional idea of "the workplace" being completely turned upside down, and a continued rising trend of employee burnout and declining mental health. HR leaders have been thrown into the limelight to help their organizations navigate and manage all of these major changes. How does HR rethink and redesign its HR strategies to succeed in the future of work, today?
SocialHRCamp Toronto 2023 is all about how we design, redesign and shift our approach to HR strategy in a rapidly changing world of work. All tickets are by donation and 100% of the proceeds will be donated to Pinnguaq — a non-profit incorporating STEAM into unique learning applications that promote storytelling, health, wellness, and growth within rural and remote communities.
We will be running this event in a new space for SocialHRCamp — OneEleven, which is a 55,000-square-foot space in the heart of downtown Toronto that provides space to many of Canada's top-growing tech companies.
Spots are limited to 150 so be sure to grab your tickets today. Grab your ticket today — great networking, hands-on learning and insights into the world of HR and social technology. #SHRC23
Hourly Schedule
Speakers
Basmah Ismail-Sidi

People & Culture Leader

From banking, to non-profit, to travel and then tech. Basmah Ismail-Sidi is a people leader and HR professional for approximately 12 years. She is passionate about supporting people with their career aspirations and cultivating an inclusive culture to foster belonging, well-being, and learning. Basmah is a humble leader, she is self-aware, reflective, and curious to learn. She believes every employee journey is unique and with compassion, trust, and transparency we can retain talent and maintain a strong positive relationship. As an HR leader, Basmah has an extensive background in developing HR strategies, leading HR teams, and supporting various cross-functional complex teams in global organizations. As a lifelong learner, Basmah holds an MBA in Global Leadership from the University of Fredericton and continues to learn as she completes a certificate in Diversity and Inclusion from Cornell University.

Hyla Pollak

VP People Operations

Hyla Pollak is Vice President of People Operations at Deep Genomics with more than 25 years of experience in Human Resources. Prior to Deep Genomics, Hyla was Vice President of People at Newtopia Inc., where she helped the company grow from six employees to a team of more than 150 personnel and implemented talent management strategies throughout the company's expansion. During her tenure at Newtopia, the company earned the Great Place to Work® (GPTW) designation in 2020. Prior to this, she was a partner/consultant at Gemini Consulting where she developed company training programs; was the business owner of Discovery Toys; and started her career at Sony of Canada as Human Resources Benefits Administrator. Hyla is the mom of 4 kids and is currently residing with her husband of 30+ years at her cottage just north of Toronto.

Jeff Waldman

Entrepreneur & HR Tech Evangelist

Jeff Waldman is a senior HR leader and technology evangelist. His newest venture is ScaleHR, a growth ops consultancy that helps scaling companies streamline costs to empower revenue growth and employee productivity. Deeply engaged and connected within the SMB and HR technology spaces, Jeff's influence has helped growing SMB companies strategically scale their People Operations through a combination of strategy and technology. With the world of work constantly changing, Jeff's unique and creative perspective on business, HR, technology, and strategy has helped many growing organizations achieve extraordinary results. He has led and built HR teams at growing organizations in the technology, financial services, entertainment, broadcasting, government, not-for-profit and consulting industries. Currently, he is Founder & Principal at ScaleHR, an HR consultancy that works with growing SMBs to scale their HR and Talent operations, and HR tech startups to build amazing software. He is also the Founder of SocialHRCamp and HR Leaders Collective – experiential learning events for the HR community. Jeff is an avid speaker, blogger, and volunteer with diverse organizations and initiatives throughout North America. Originally from Vancouver, and currently living in North Toronto with his amazing wife and three awesome young boys with who he spends his personal time. He also coaches his kids' sports teams and is an avid hockey player and snowboarder.

Kara Wilson Oliver

Head of People

From developer to product manager to HR leader, Kara has played many roles professionally however there have been two constants: technology + social impact. Kara is currently the Head of People at ResQ, an end-to-end repair and maintenance software platform for restaurants.

Liana Karimova

Head of People Operations

Liana Karimova is an HR leader who has worked in human capital consulting, helped to scale startups, and built HR processes from scratch. She completed her Master's in Human Resources from the University of Minnesota, Carlson School of Management. This was when she became especially interested in organizational behaviour, leadership and employee experience. Her experience ranges from facilitating rope-course-based team-building training to delivering quarterly reports for the Board of Directors.

After moving to Toronto, she joined a 20 people Clean Technology startup Opus One Solutions, as a very first HR hire and helped them to scale to almost 100 employees. Currently, Liana is Head of People Operations at Ritual and works on different challenges scale-up faces every day.

Liana is a working mom of a 2-year-old active toddler, so she is always happy to chat about what to do with kids on weekends, how to attend meetings with a sick child or how to stay in touch with employees on parental leave.

Michelle Brooks

Chief People & Culture Officer

Michelle is currently the Chief People & Culture Office at Security Compass, a software security firm in Toronto. Michelle has experience working in a series of progressively senior leadership roles within industry-leading recruitment firms, before making the transition to human resources and corporate training in the tech and consulting sectors. Michelle has successfully helped multiple tech companies build for scale by building a strong employer brand and recruitment functions, developing lean people operations that drive the development of talent, and relentlessly focusing on a corporate culture that evolves with scale.

Purvaja Sekar

People Operations Manager

Purvaja is a product of multiple career fields, including behavioural therapy, psychotherapy and most recently, people operations. After completing her undergrad in psychology, Purvaja went on to work front-line in the field of behavioural therapy. She complimented that path by getting a professional license in psychotherapy and then found her way into the world of HR. Though Purvaja comes from a variety of fields, her passion is people, however, that looks! She now leads People Operations at IDENTOS. IDENTOS helps clients take leaps forward in digital service integration by helping empower their customers to safely share their personal information with them and their trusted service partners. Coupled with traditional HR practices, Purvaja brings a new approach to all things, people, focusing on both the employee experience and attaining business goals.

Raquel Binder

Learning & Development Leader

Raquel is a Toronto-based Learning & Development Leader with over 10 years of experience in creating innovative learning opportunities. Coming from a background in education, leadership, and program development, Raquel uses a creative approach to her mission to help develop, support, and retain great talent – aka, help awesome people keep being awesome. After working in the non-profit sector for 8 years in various roles, Raquel made the leap into tech. She leads the Coaching & Development Team at Jobber, one of Canada's Top 10 Great Places to Work and a Deloitte Fast 15 winner. She is proud and grateful that every day she gets to listen to people's stories and help set them up for successful careers. Outside of work, you can find Raquel cooking up a storm, working out, or planning her next trip.

Robert St-Jacques

Head of Legal Talent

Over the past 20 years, Robert has completed more than 23 HR Tech implementations from ERP systems like Oracle and SAP, to intranets, career websites, applicant tracking systems, and pulse survey systems. He has led the People and Culture function on 4 continents, in 7 different industries, and in organizations ranging from a 30-person technology startup to a 12,000-person publicly-traded multinational construction company. Some projects he's helped bring to life via leading HR include the Palm Dubai, the Burj Khalifa, twofour54 (Fast and Furious and Star Wars movie production), Snake Island Free Zone in Lagos, and changing the way 1 billion people in Asia and Africa consume entertainment.

Today, as a full-stack HR leader, HR Tech Advisor, Employment Lawyer and University Lecturer, Robert continues his mission to help "make companies and HR work better for everyone: Employees, Managers, Organisations, and Communities." As a fellow for the Centre for Evidence-Based Management, Robert is proud to evangelize the tenets, principles, and practical implementation of Evidence-Based Human Resources.

Susy Martins

Business Executive & Executive Coach

Susy is an international Business Executive and Executive Coach, having worked and led teams in over 20 countries across North America, Europe, South America, and Asia. As an experienced Chief People Officer and Operations Executive, Susy has experience in both rapidly scaling and rightsizing organizations; coaching at all levels of leadership; and hands-on leadership experience across multiple functional areas (People, Finance, Audit, Operations, & Strategy).

From a business perspective, Susy has spearheaded multiple transformation and automation projects as well as global expansions of teams. She has also developed top-rated onboarding programs; HR operating models and strategies; and managed multi-million dollar budgets and 1,000s of employees for Tech Unicorns (Clearco & ApplyBoard), Global Industrial Businesses (General Electric, 3M), and Global Financial Services (Manulife/John Hancock & Allianz Partners).

In terms of credentials, Susy holds an MBA from the Ivey Business School at Western University. She has also obtained the Harvard Coaching Strategies certificate and is pursuing a NeuroCoaching designation through the NeuroScience Coaching Centre. Susy is also recognized as a Woman of Influence.

Susy speaks English, Spanish, Portuguese, and French. She is a proud champion of diversity and a passionate community builder.

Sydney Elaine Butler

Accessibility & Neurodiversity Speaker, Consultant & DEIB Facilitator

HR Professional | Founder, Speaker and Accessibility/Neurodiversity Consultant at Accessible Creates | |Founding Member of InHeartSight (IHS) | DEIB Facilitator | They/Them Pronouns

It is Sydney's understanding that their professional purpose must be to ensure that everyone has the opportunity to be successful regardless of barriers in their way and that they must as a professional remove these barriers. Sydney conducts training and consulting other companies on how to be more Accessible and Inclusive from a Human approach and how to recruit and retain more diverse individuals through lens of Intersectionality/Human Resources as well as other areas of Diversity, Equity and Inclusion in an authentic manner at their company at they founded called Accessible Creates due to understanding the barriers that exist within the workplace for diverse individuals. Sydney is also a Founding Member of InHeartSight (IHS) which is a diverse community of professionals from across Canada filling the gap in existing services for recent women immigrants. Where they are on a mission to ensure that every woman who comes to Canada has the right skills, and the right job, at the right time.