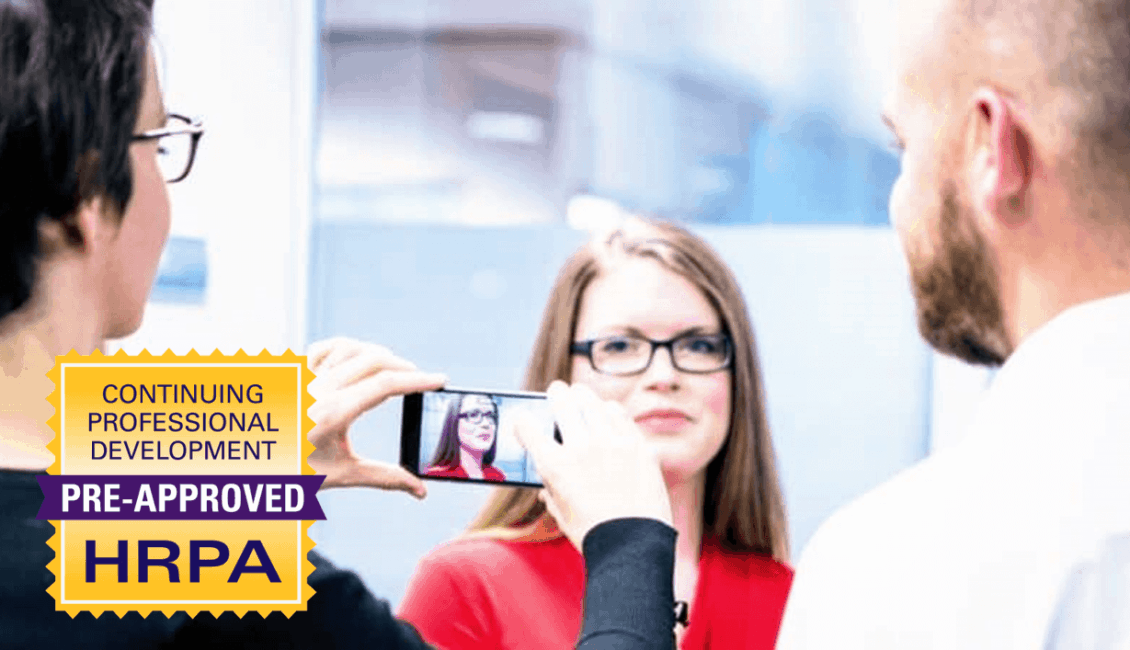 SocialHRCamp Virtual 2021 1.0 – Maximizing Employee Engagement in a Virtual World
In partnership with Airmeet, we are extremely excited to be launching our first truly Virtual SocialHRCamp. The global COVID-19 pandemic has had a significant impact on both our personal and professional lives. What has not changed is our unwavering desire to learn, push ourselves intellectually, and do great work.
This fully virtual experience on May 19-20 will focus on how to maximize employee engagement in a virtual world. In typical SocialHRCamp fashion, we will run mega and break-out sessions and our speaker group is truly an impressive collection of HR and Recruitment leaders, practitioners, and industry thought leaders from across North America. While we are disappointed that we won't be able to offer amazing food and beverage (we know attendees always look forward to the wine and beer selection at our events), we will be integrating many creative wellness-related "break sessions" and a plethora of creative sponsor and social offerings.
With the Airmeet event platform we will be running a fully interactive tradeshow, networking tables, "random speed networking", and highly interactive sessions, all within the Airmeet platform — i.e. you don't need to leave the platform to jump on Zoom, Google Meet, or any other platform.
Spots are limited so be sure to grab your ticket today — great networking, and hands-on learning.
Note: for those who are members of the HRPA, attending SocialHRCamp has been pre-approved for 5 CPD hours.
Speakers
Adam Growe

professional comedian & host/MC

Adam Growe has become a familiar face as the host of Cash Cab Canada. A professional comedian and host/MC, Adam performs at events, conferences and theatres, and has met the growing demand in the online landscape for entertaining and interactive content which he can deliver on any virtual platform.

For over 30 years, Adam has been performing on radio, television, stage, and at conferences and events. An accomplished stand-up comedian, Adam has numerous other TV credits, including: "Just for Laughs", "Comedy NOW!", CBS "Star Search" and Comedy Central's "Premium Blend". The professional brand of the comedy and gamification content that he produces and hosts is inspired by his family life and business acumen.

With experience as a leadership communications consultant, Adam also teaches First Aid workshops as a certified Red Cross Instructor and has co-founded two not-for-profit incorporations to advocate for and support independent professional comedians across Canada.

Adam has three kids and lives in Toronto with his wife, where they foster babies with the Children's Aid Society

Agata Zasada

vice president of people & culture

In her 13 year career in HR, Agata has rocketed to the executive level thanks to her innovative approach to people practices and challenging the status quo. Her thought leadership in the HR community and countless mentoring conversations each year have allowed Agata to not just impact the lives of those who are lucky enough to be a part of her company but inspire an industry to re-think how they approach HR. Agata is currently the Vice President of People & Culture at Bananatag, who in large part thanks to her impactful strategy has won 3 major employer awards this past year. Agata is no stranger to contributing to other admired cultures including the Olympics, Lululemon Athletica, Hootsuite, and Spence Diamonds.

Andrea Johnson

director, human resources

An advocate for well-aligned employee experience programs, Andrea Johnson is the Director, Human Resources at Fonolo. Her HR practice is focused on transforming organizations into employers of choice and employees into brand ambassadors through well-informed and thoughtful HR practices and programs. In other words, she's on a mission to put the 'Human' Back in Human Resources. Andrea has over six years of Human Resources experience in the software industry. She holds a Bachelor of Arts degree (double major in Communications and Sociology), as well as a postgraduate certificate in Human Resources Management.

Anthony Vaughan

co founder

Anthony Vaughan, who prefers AJ is an out-of-the-box, radical hybrid who is obsessed with all things entrepreneurship & employee experience. A current 3x founder, Startup Advisor, Executive and proud Son. His rise within the world of HR/Entrepreneurship is one that is definitely not typical but his focus and dedication to putting Employees First drives him to help forever change the world of work! Anthony (AJ) is currently working on a brand that will hopefully forever change the world of work "The E1B2 Collective", a collective of brands and practitioners designed to make substantial employee experience within the world of startups and small brands.

Bakari Savage

socialhrcamp virtual emcee

Bakari Savage is a 2020-2021 Rosalynn Carter Mental Health Journalism Fellow, through The Carter Center, spending the year documenting the effects of Covid-19 isolation on the psyche of tweens and teens, young and middle-aged adults alike. This designation is the culmination of almost a decade of work as a broadcast journalist, most recently as a reporter for WBRC Fox 6 News, in his hometown of Birmingham, Ala., Ground Zero of the American Civil Rights Movement. During his tenure there, Savage was also the host of the lifestyle segment, "Magic City Weekend," showcasing the best restaurants, bars, and entertainment around the city.

In addition to previous fellowships with SciLine, learning to better work with scientists on how to cover adolescent health, and the University of South Carolina's School of Law Media Law School, learning to better understand and ask key legal questions, Savage's work includes stints as an anchor and reporter for "Good Day Carolinas" at Fox 46 WJZY in Charlotte, N.C. and "The Morning Show" with Independent station WJXT in Jacksonville, Fla. His broadcast journalism career began at CBS affiliate KNOE in Monroe, La., before moving up to the NBC affiliate KARK in Little Rock, Ark. and jumping to News 13 in Orlando.

Before those roles, Savage spent a few years in corporate America. He started as an account coordinator in PR Newswire's Los Angeles office and was promoted to account manager in the San Francisco office.

Throughout all of this, civic duty has been and remains paramount to Savage. Currently, he's a board member with On River Time, a non-profit serving survivors of abuse and neglect through the world of fly fishing. Most recently, he was a board member of Smile-A-Mile, junior board member of The Bell Center, and a founding member and president of the Northeast Louisiana Young Professionals. Savage is also a member of the Canadian Association of Black Journalists (CABJ) and the National Association of Black Journalists (NABJ).

Savage now resides in the Leslieville neighbourhood of Toronto, ON, with his wife, Jamie, and their dog, Charlie. Savage matriculated at the University of Minnesota, Twin Cities, with a double major in Political Science and Communication Studies. While there, he became a member of the Sigma Chi Fraternity and continues to support fraternity advancement as a Life Loyal Sig.

Brenda Rigney

Founder

Brenda Rigney consults with CEOs, entrepreneurs, and family businesses on scaling business solutions, or steps in as a fractional executive team member to support strategic planning, organizational design, and executive and leadership development. Her clients range from technology, manufacturing, hospitality, health care, marine
construction and engineering companies.

The arc of my career is an expression of my innate curiosity, and commitment to creating people systems that help position companies for growth transformations, no matter where my work occurs. With executive leadership experience that has traversed operations, sales, and human resources at brands like Gap Inc, Aritzia, Vancity, Earls Restaurants, and Nurse Next Door, I've accumulated industry- and sector-agnostic insights that provide powerful perspective in my consulting practice.

In my world, service matters. That's why beyond consulting, and alongside being in active pursuit of my goals, raising my girls, and tending to a vision that inspires us all, I serve on my family's company board with Graymont Ltd. I launched a podcast in 2020 called #3UNIQUES which celebrate the uniqueness in all of us

Caitlin MacGregor

Caitlin MacGregor

Caitlin has always been passionate about identifying people's potential. That's why, after building two businesses for other people, she founded Plum — to quantify people's potential, creating agile enterprises and successful employees by matching people to jobs where they thrive. Caitlin is particularly passionate about supporting women to reach their full potential and believes that the best way to inspire people is to lead by example. Caitlin is a regular speaker at women entrepreneur events and a champion of #movethedial, an initiative dedicated to increasing the leadership of women in tech. Caitlin was selected by Springboard Enterprises NYC as one of the top 10 businesses led by women.

Estela Vázquez Pérez

Employer Brand and Employee Experience Strategist

I am an award-winning employer brand and experience management executive, with global exposure and expertise that is enhanced with data, design, and digital abilities. I have created and led global centres of expertise to drive brand equity and employee experiences for corporate citizens like Scotiabank and RBC. Along the way, I managed employee engagement partnerships with AIMIA, Havas, Publicis, Work Communications, Grey, and TMP Worldwide. As a workplace architect, I drive business performance by helping employers articulate their brand, enabling them to act in a decisive way, and deliver better employee experiences. I bring a unique perspective based on global exposure to talent management, a bachelor in Marketing sciences, a Masters in Science of Information Technology, and a series of certifications including Employer Branding, Change Management, Information Mapping, Learning, and Development. Estela has served many years as a mentor for the Trillium Foundation, preparing new Canadians to succeed in the new world of work. You can find her thought leadership contributions in the Human Capital Institute, Universum Global, and Great Place to Work.

Jamie Savage

Founder

Jamie Savage is the Founder of The Leadership Agency, the recruitment partner of choice for North America's fastest-growing startups. The Leadership Agency gets to help build the most impressive companies of our generation. Some clients include SkipTheDishes, Endy, StackAdapt, TouchBistro, PagerDuty, Ritual, Justworks. Coming from the corporate world, Jamie launched her firm in 2017 and has continued to grow it ever since; expanding into the US in just 18 months. opening an office in NYC, and earning multiple awards, such as Best Service Provider 2019 (HRD Canada), and Best Professional Services (Canadian SME Business Magazine). A disruptor in the HR and recruitment space, Jamie contributes her expertise to The Globe and Mail, CBC, Inc., and HRD Magazine, and she's on the Forbes HR Council. She was the Emcee and spokesperson for North America's largest HR Tech Conference 2019, with over 3000 attendees. Jamie is an angel investor and a Founding Member of The Big Push: Taking women-led companies from seed to series A and beyond.

Jason Averbook

Co Founder & CEO

Jason Averbook is a global keynote speaker, industry analyst, thought leader, and consultant in the area of human resources and workforce experience. He is the Co-Founder and CEO of Leapgen, a digital transformation company shaping the Now of Work. Author of The Ultimate Guide to a Digital Workforce Experience ~ Leap for a Purpose, Jason seeks to broaden executive mindset to rethink how to better design and deliver employee services that exceed the expectations of the workforce and the needs of the business.

Prior to founding Leapgen, Jason served as the CEO of The Marcus Buckingham Company (TMBC). In 2005, he co-founded Knowledge Infusion, LLC, and served as its CEO until 2012, when the company was sold to Appirio. Earlier in his career, he served as the Chief Business Innovation Officer at Appirio Inc., where he led the HCM business. He has also held senior leadership roles at PeopleSoft and Ceridian Corporation. Jason has more than 20 years of experience in the HR and technology industries and has collaborated with industry-leading companies in transforming their HR organizations into strategic partners.

Jeff Waldman

Entrepreneur & HR Tech Evangelist

Jeff Waldman is a senior HR leader and technology evangelist. His newest venture is ScaleHR, a growth ops consultancy that helps scaling companies streamline costs to empower revenue growth and employee productivity. Deeply engaged and connected within the SMB and HR technology spaces, Jeff's influence has helped growing SMB companies strategically scale their People Operations through a combination of strategy and technology. With the world of work constantly changing, Jeff's unique and creative perspective on business, HR, technology, and strategy has helped many growing organizations achieve extraordinary results. He has led and built HR teams at growing organizations in the technology, financial services, entertainment, broadcasting, government, not-for-profit and consulting industries. Currently, he is Founder & Principal at ScaleHR, an HR consultancy that works with growing SMBs to scale their HR and Talent operations, and HR tech startups to build amazing software. He is also the Founder of SocialHRCamp and HR Leaders Collective – experiential learning events for the HR community. Jeff is an avid speaker, blogger, and volunteer with diverse organizations and initiatives throughout North America. Originally from Vancouver, and currently living in North Toronto with his amazing wife and three awesome young boys with who he spends his personal time. He also coaches his kids' sports teams and is an avid hockey player and snowboarder.

John Fleischauer

Chief Hiring Officer

John Fleischauer – or as he's better known – bigtalljohn – is a bit of a recruiting enigma. After studying Biomedical Toxicology at the University of Guelph, John started his career in the recruiting industry in 2004. After working in the agency space for eight years, John transitioned to corporate and led Halogen Software's Global Talent Acquisition function, where he helped the business scale from 170-530 employees (worldwide) in 3 years. After being acquired by Saba Software, he then transitioned to lead Saba's Global Talent Acquisition function where he was able to stand up a predictable hiring engine that allowed the business to hire for 70 open positions in his final 60 days with the company. John is now Chief Talent Officer of Pivot + Edge, a firm that exclusively helps Seed and Series-A funded start-ups outcompete big corporate in the war for talent, all for a fraction of the cost of traditional recruiting. John is an author, a TEDx speaker, a two-time DisruptHR speaker, and you can find him rambling about ridiculous nonsense on Twitter @bigtalljohn.

Jordana Heney

Graphic Designer

As part of StickerYou's in-house design team, Jordana uses her wide variety of creative skills to bring ideas to life. She works on everything from email marketing layouts to mock-ups and printed stickers. Motivated and focused, her every day is a combination of teamwork and independent endeavors, developing new ideas into tools of visual communication.

Laura Sukorokoff

Laura Sukorokoff has always had a passion for the employee experience. She has built a career in learning and organizational development and, as the founder of C Change Learning and Development, seeks to make work a great place to be. Laura is a highly regarded speaker and a subject matter expert in the area of engagement and retention. She works with leaders, entrepreneurs, managers, coaches, and professionals in all facets of business.

With over 20 years' experience in business, Laura has expertise in employee and customer experience, change management, coaching and mentoring, goal-setting, and leadership development.

Laura brings a fresh way of thinking to employee engagement and retention, and is the author of "It's Not Them, It's You: Why Employees "Break Up" With Their Managers and What To Do About It". She firmly believes managers hold the key to making workplaces more human and her company, C-Change Learning and Development, provides those managers with the knowledge and support they need to get that done.

When not at work, Laura enjoys meeting new people and exploring new places around the world or exploring the woods around her Vancouver home with her two dogs, Doug and Murray.

Laurie Ruettimann

writer speaker & entrepreneur

Laurie Ruettimann is a former human resources leader turned writer, speaker, and entrepreneur. She is known for her commonsense style and straightforward approach to workforce issues. Her podcast, Punk Rock HR, is one of the fastest-growing management and business podcasts on iTunes, Stitcher, Spotify, and Pandora.

Laurie's career began in 1995 at a candy company where she provided HR operations assistance and recruiting services in a manufacturing environment that was heavily unionized and staffed with immigrants from war-torn Bosnia. Since those glorious days, she's worked at Monsanto, Alberto-Culver (now Unilever), Kemper Insurance (out of business), and Pfizer.

Laurie began blogging in 2004 on a nascent platform called BlogSpot while working at Pfizer, telling stories that would likely get her fired. After laying off thousands of workers and watching her husband lose his job at the same company, she exited corporate America to focus her time and attention on speaking truth to power by writing, speaking, and advising companies on how to make HR better.

Laurie has been featured on major American media platforms such as NPR, The New Yorker, Vox, and CNN. She is the creator of the websites The Cynical Girl and Punk Rock HR, which Forbes named as one of its top 100 websites for women. She was a contributing editor for The Conference Board Review and a contributor to online ventures such as Mediabistro, AOL, and BusinessInsider.com.

Laurie believes that self-leadership and individual accountability are the competencies required for the future of work. Her advice has been featured in a variety of publications—including CIO Magazine, Entrepreneur, Fast Company, Inc., Men's Health, Real Simple, The New York Times, U.S. News & World Report, USA Today and The Wall Street Journal. CareerBuilder and CNN have recognized her as a top career advisor in the United States.

Laurie is a sought-after public speaker who delivers keynote speeches to audiences all around the world. She appeared onstage at the 92nd Street Y and Harvard Business School, founded GlitchPath, an early-stage start-up focused on project management, and started ​a new podcast in April 2018. Her book called Betting On You: How to Put Yourself First and (Finally) Take Control of Your Career with Henry Holt & Company was published in January 2021.

Rolando Lopez

senior director, talent strategy

Rolando Lopez is an experienced HR leader with a track record for building teams, people, and culture practices for Canadian Fortune 500 organizations. His professional expertise spans various industry verticals such as Financial Services, Pharmaceutical & Health Sciences, Telecom, and Retail.

As a Talent and Organization Development specialist, he enables organizations to optimize their workforce through strategic practices such as Employer Branding, Talent Attraction & Assessment, Learning & Leadership Development, and Succession Planning. He is an industry thought leader on HR Innovation and Technology and is passionate about preparing organizations for the Workforce of the Future.

In his spare time, Rolando enjoys spending time with family, keeping fit, and actively participating in his local community. He is passionate about mentoring the future generation of talent and gives back to his profession by coaching and mentoring high potential talent in their early careers.

Stephen Shedletzky

Head or Brand Experience, Igniter

Stephen Shedletzky engages with people in meaningful ways so that we connect with depth and live in a more fulfilled world. With a knack for sharing the right words at the right
moment, he delivers evidence-based content in a provocative, captivating, and light-hearted way.

Feeling stifled on his corporate track, Stephen was struck by Simon Sinek's vision of a more inspired, safe, and fulfilled world. He joined Sinek's team in 2012. What started as a position answering fan email, Stephen now leads Brand Experience and the team of Igniters to ensure every product, partnership and communication reflects the organization's most deeply-held beliefs.

As an Igniter himself, he guides leaders and organizations to adopt the mindset and actions needed to lead in the Infinite Game. A dedicated aide to the Simon Sinek team and those they serve, Stephen is first in line to support those who seek to discover, articulate and bring their WHY to life.

With the right mix of passion and professionalism, Stephen was an obvious choice to narrate the audiobook for the 2017 best-seller Find Your Why. He co-hosted the Start With Why Podcast, with more than 715,000 downloads in over 180 countries.

Stephen graduated from the Richard Ivey School of Business with a focus in leadership, communication, and strategy. He brings the message to inspire to people and organizations around the world and serves clients in nearly every industry. Stephen lives in Toronto, Canada with his wife and two children.