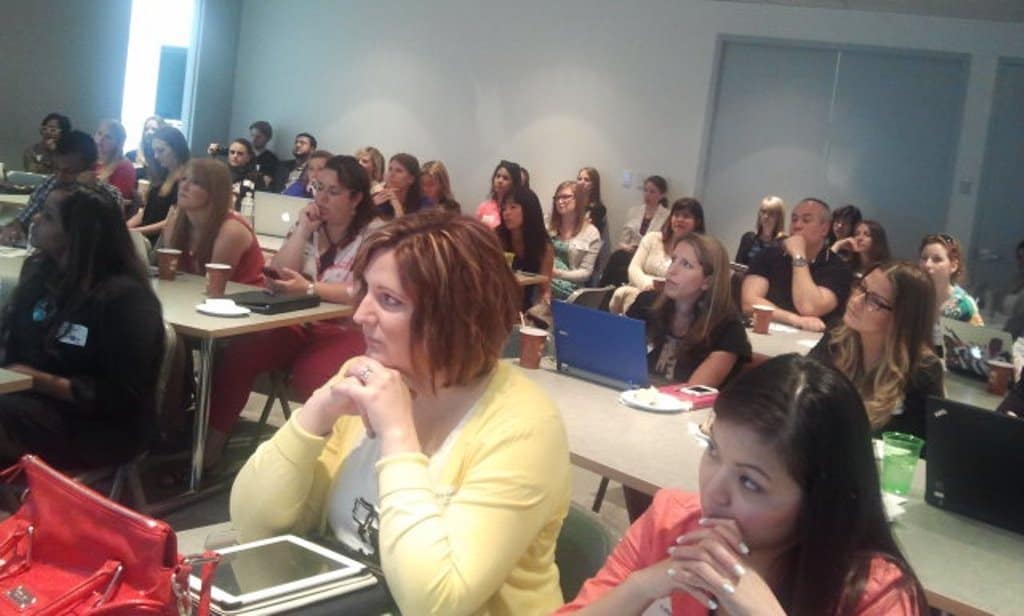 Vancouver 2012
Speakers
Andrea Shillington

Andrea Shillington

Andrea gave up the corporate world to pursue her passion to help startup businesses become world famous brands. Before creating Brands for the people, Andrea was a brand consultant for several years in the Middle East, Europe and North America. She worked on a wide variety of projects ranging from rebranding the UAE's federal governments to re-branding hospitality groups.

After returning home to Vancouver, Andrea re-discovered the startup community and wanted to find a way to make strategic branding affordable. Going much deeper than logo design, Brands for the people was born to help startup businesses with a vision to change the world.

Avi Lambert

Avi Lambert

Avi Lambert has designed effective communications and facilitated strategic public relations for the last 10 years. He has spent the last 3 years as a social technology and social marketing consultant, helping clients leverage value in audience targeted research. Other interests include social activism around drinking water and paddling.

Heather Clifford

Heather Clifford

Heather lives in beautiful Nanaimo and teaches hands on Social Media Clinics throughout British Columbia. Heather is a vibrant speaker who engages her audience to take action. A strategist and consultant with a diploma in development & marketing.

Every business can benefit using social media by harnessing the power of the people within their organizations. Simple, yet effective tips and tricks to be part of this new world of on-line social media. Heather believes social media is the new Chamber of Commerce. Follow along with Heather to learn some of the most powerful tools available to you today.

Jade Bourelle

Jade Bourelle

Jade brings 25 years of executive management and innovative solution building in the recruiting and training industry to Talent Technology. As a cofounder and CEO, Jade has worked for the past 11 years to build Talent Technology into one of the largest HR software solution providers in the industry, starting with the introduction of HireDesk Applicant Tracking System, followed by Resume Mirror (now Talemetry Apply and Match) and most recently the Talemetry talent generation suite.

Prior to Talent Technology, Jade was an executive search consultant and the founder of TeleSkill Human Resource Solutions, a telecommunications recruitment firm. He cofounded Canada's 'Top 40 Under 40' business awards and was the executive director of the Association of Collegiate Entrepreneurs (ACE), an international organization dedicated to helping university students start businesses. Jade currently serves on the International and Vancouver Board of the Entrepreneurs Organization (EO).

James Clift

James Clift

A serial entrepreneur, James has built 2 companies, and understands first-hand the importance of attracting top talent. Currently, he is the founder and CEO of KarmaHire, a hiring platform that helps businesses pool recruiting resources and bridges the gap between talent and opportunity. As the CEO of a web startup, he wears many hats—from recruiting top talent to writing code.

He believes that the future of hiring is collaborative and social, and that companies who embrace change will see huge benefits moving into the future. His mission is to build the tools and platform that create the future.

Jane Boyd

Jane Boyd

Jane is the Founder of 45 Conversations; a company created to serve speakers, authors, event promoters and participants as well as worldwide collaborators that want to build awesome connections and meaningful relationships. 45 Conversations reinvents the power of conversation, creating momentum and enthusiasm for events and ideas, while simultaneously building engagement and community.

For more than seven years, Jane has been actively involved in the world of social media. She is a blogger, speaker, online community builder and global collaborator who regularly participates in unique initiatives in the social space. Jane is a founding partner of #StartupJAM and is also part of the #Soundof100 project team; a global transmedia project that is designed to curate the voices of 100 people ages 1 to 100 years. She is directly connected with many of the most leading influencers within the social business and online space. Jane is an active participant in SOBCon, the think tank of the social web where some of the best minds in the Internet space gather to present models, discuss insights, and determine best practices which was founded by Liz Strauss.

Additionally, for more than 15 years, Jane has successfully provided consulting services to the corporate, government and NGO sectors. She has designed and implemented leading & award winning solutions related to human resources, employee wellbeing and workplace child care issues.

Jeff Waldman

Entrepreneur & HR Tech Evangelist

Jeff Waldman is a senior HR leader and technology evangelist. His newest venture is ScaleHR, a growth ops consultancy that helps scaling companies streamline costs to empower revenue growth and employee productivity. Deeply engaged and connected within the SMB and HR technology spaces, Jeff's influence has helped growing SMB companies strategically scale their People Operations through a combination of strategy and technology. With the world of work constantly changing, Jeff's unique and creative perspective on business, HR, technology, and strategy has helped many growing organizations achieve extraordinary results. He has led and built HR teams at growing organizations in the technology, financial services, entertainment, broadcasting, government, not-for-profit and consulting industries. Currently, he is Founder & Principal at ScaleHR, an HR consultancy that works with growing SMBs to scale their HR and Talent operations, and HR tech startups to build amazing software. He is also the Founder of SocialHRCamp and HR Leaders Collective – experiential learning events for the HR community. Jeff is an avid speaker, blogger, and volunteer with diverse organizations and initiatives throughout North America. Originally from Vancouver, and currently living in North Toronto with his amazing wife and three awesome young boys with who he spends his personal time. He also coaches his kids' sports teams and is an avid hockey player and snowboarder.

Jen Watkiss

Jen Watkiss

Jen Watkiss has long been living at the leading edge of social technology. She worked at a Gastown technology company while the startups were still in Yaletown and was invited to speak on a panel at the first Northern Voice blogging conference. Tech startup veteran, marketing and PR specialist, personal blogger and digital native, 10 years on, the personal has become professional as Jen now spends her days as the Marketing and Social Media Manager for Talent Technology.

You can find her online changing recruiting and sourcing for the better with Talemetry talent generation as @talemetryJen, writing and editing at the Talent Technology blog or on Facebook.com/talenttech. You can also see her personal musings & adventures on twitter as @Jen_Watkiss or at www.worldwidewatercooler.com.

Early Adopter. Gadget Nerd. Amateur Foodie. Travel Junkie. Slightly Batty.

Kemp Edmonds

Kemp Edmonds

Kemp has a passion for organizational culture, education, and building Canadian technology businesses. Kemp developed the first social communications courses and certifications at BCIT and acted as an expert witness in the first case in Canada where an employee was fired for their Facebook postings. Kemp spent five years building Hootsuite from 25 to 2000 employees. He then led marketing and growth for two of Kelowna's top technology companies, GetintheLoop and FreshGrade. Kemp is an angel investor and advisor to start-ups and SMBs. Kemp most recently launched The Canadian Workplace Culture Index and Certification program.

Kerrilee Auger

Kerrilee Auger

Kerrilee runs Whistler-based InstaPulse, which provides customer and employee feedback programs, and strategic consulting services to help businesses react and respond to the results of surveys. With a passion for excellent customer service, Kerrilee helps businesses get set up for success with an effective program to listen to both employees and customers, creating loyal and engaged brand ambassadors.

Kerrilee is Chair of the Women of Whistler, and volunteers with both the Whistler Health Care Foundation and Community Foundation of Whistler, providing marketing, communications and social media support for two community events, Indulge Gala Evening & Auction and The Kathy Barnett Leadership Luncheon.

When not at work, Kerrilee enjoys mountain biking, skiing, and spending time enjoying the active lifestyle that Whistler offers with her husband and business partner, Guy, their two children, and black lab Garbo.

Kevin W. Grossman

Kevin W. Grossman

For over 13 years, I've been a human resource and recruiting B2B software and services marketing strategist, business development and sales professional, evangelist, entrepreneur, analyst, advisor, manager and writer.

Kevin's extensive knowledge of business development, marketing, sales, public relations and social media best practices, and thorough understanding of the human resource and recruiting marketplace, has helped hundreds of B2B software and services companies grow their business on some level. I've increased visibility, thought leadership and sales for most of the companies I've worked with and for.

He's also a partner and collaborator of the TalentCulture community with as well as a co-founder of the online Twitter chat #TChat and the #TChat radio show. Kevin received his BA in psychology from San Jose State University. He's a loving husband and proud father who enjoys reading, writing, running, drumming and music.

Meena Sandhu

Meena Sandhu

A Senior Regional Marketing Manager at ING DIRECT, driving strategy for Western Canada especially in the area of Social Media. Owner of GetFRESH Marketing and Design. Creates Marketing Strategies for startups and promotional campaigns for existing businesses, specializing in social and experiential marketing.

Speaker doing talks on Social Media and Marketing. Has spoken at the Unmarketing conference and a panelist on the unpanel, Social Media Money, Enterprise Summit at Social Media Week, SFU/UBC Social Media Club, Impact99 and many more. Speaks for the Richmond and Vancouver School District. Workshop presenter for the BC Business Education Teachers Conference.

Social Media Director on the board of directors for the BC chapter of the American Marketing Association. Member of the Social Media Advisory board for Social Media Week Vancouver. Member of the marketing committee for the Forum for Women Entrepreneurs.

Nick Kellet

Nick Kellet

Recently joining List.ly as Co-Founder in December 2011, he took the Alexa ranking from 600k to 99k in 14 weeks. As a platform for the curation and publishing of social lists, List.ly continues to go from strength to strength.

As a perpetual innovator Nick always has ideas for the next big thing, and a record for making good bets and predictions. Being left-handed and right brained Nick places a strong focus on execution, building great teams and not taking himself too seriously.

Nick took his last startup to exit in 2.5 years; Next Action Technology and their product AnswerSets was sold to Business Objects in 1999. In 2006 he published a board game called GiftTRAP, which is available in 12 languages globally, gamifies the act of gift-exchange, adding the feedback look that real-life giving is missing.

Nin Sandhu

Nin Sandhu

Nin brings over 7 years of experience in product marketing, product management and applications engineering. He has a great combination of technical and business related skills, and is passionate about helping customers leverage technology to solve real world business challenges. Prior to joining Talent Technology, Nin was a part of the Product Marketing team at ACL Services, and the Product Management team at Rockwell Automation.

Rebecca Coleman

Rebecca Coleman

Rebecca Coleman has been a freelance theatre publicist since 2001, working for companies like Touchstone, Ruby Slippers Theatre, Capilano University's Theatre Department, Presentation House, Radix, and Leaky Heaven Circus. An actor, writer and producer, she is also very passionate about helping artists to be better businesspeople.

An early adopter of Social Media (she began blogging and joined Facebook in 2007, and Twitter in 2008), she has become increasingly interested in using it as a marketing tool, and writes about the subject frequently on her blog, The Art of the Business. She has written an e-book called The Guide to Getting Started With Social Media for Artists and Arts Organizations, which helps newbies create a marketing plan using social networking as a tool. She instructs courses in Social Media Marketing at Emily Carr University and BCIT, and travels internationally giving workshops.

Stéphanie Montreuil

Stéphanie Montreuil

Stéphanie Montreuil is an accomplished marketing communications professional with over 10 years experience. She likes to work with entrepreneurs & SMBs to help them put sound strategies in place and chose the proper new media channels to tell their stories, build communities and grow their brands.

An avid traveler, and savvy networker, she is known as a natural connector & relationship builder. She is also a firm believer in the power of community, connection & collaboration and believes that social media is a powerful tool that can help you attain your goals faster. A sought after subject matter expert & recognized though leader, she is a regular on the speaker circuit and has been a part of such events as Social Media Week Toronto, #140Conf The State of Now in NYC and Blissdom Canada.

Stéphanie is also the proud mother of a creative & energetic teen daughter whom she enjoys traveling and discovering the world with. An advocate of using social media for social good she is a champion of community causes and volunteers her time for various organizations such as Twestival, the CHEO BBQ & the Royal Ottawa Hospital Foundation.

Stephen Jagger

Stephen Jagger

Stephen Jagger is an entrepreneur that has been starting businesses since high school. He is currently involved in 4 businesses. Ubertor.com is a real estate software company that provides websites and online marketing tools to thousands of real estate agents across North America. Reachd.com is a training company that focuses on marketing professionals and businesses that are interested in learning more about search engine optimization, blogging, online video, Google Adwords and social media. The 3rd is OutsourcingThingsDone.com which provides high level outsourced personnel to business owners and managers across North America. His newest venture is PayrollHero.com, "Optimizing work productivity with Happiness".

Stephen speaks to groups of all sorts including real estate conferences and Entrepreneur Organization chapters (EO) around the world. In addition, he has been covered in many major publications including The Vancouver Sun, The Wall Street Journal, The Ottawa Citizen, The Vancouver Courier, The Calgary Herald plus many more. He is very active in the community as a member of the Vancouver Board of Trade Communication Committee, the Vancouver College Alumni Association, a volunteer with Kids Help Phone, the founding member of the largest real estate agent meetup in North America and a mentor for the Leaders of Tomorrowprogram as well as the Forum of Women Entrepreneurs.

Yume Tabo

Yume Tabo

Yume's career in social media started with blo – blow dry bar, while in university. After being caught several times on social media networks such as Facebook and Twitter, the co-founders decided to create an opportunity. During the three years as blo's social media cheerleader, she was honored to be mentored by the founding team of blo, including Judy and Devon Brooks and Val Litwin and share a seat on blo's brand team.

After leaving blo, she represented numerous beauty brands such as Skoah, Bombay Brow Bar and Bling, and tackled corporate brand representation for companies such as Women in Franchising (a sister company of FranchiseLink), Thinkbox and NABS West, through a company she helped launch, Chatterbox Social Media.

Currently, she has taken a full-time position at Nurse Next Door Home Care Services, to manage their online presence as well as building a strategy to utilize social media as a tool to compliment their franchise sales systems.