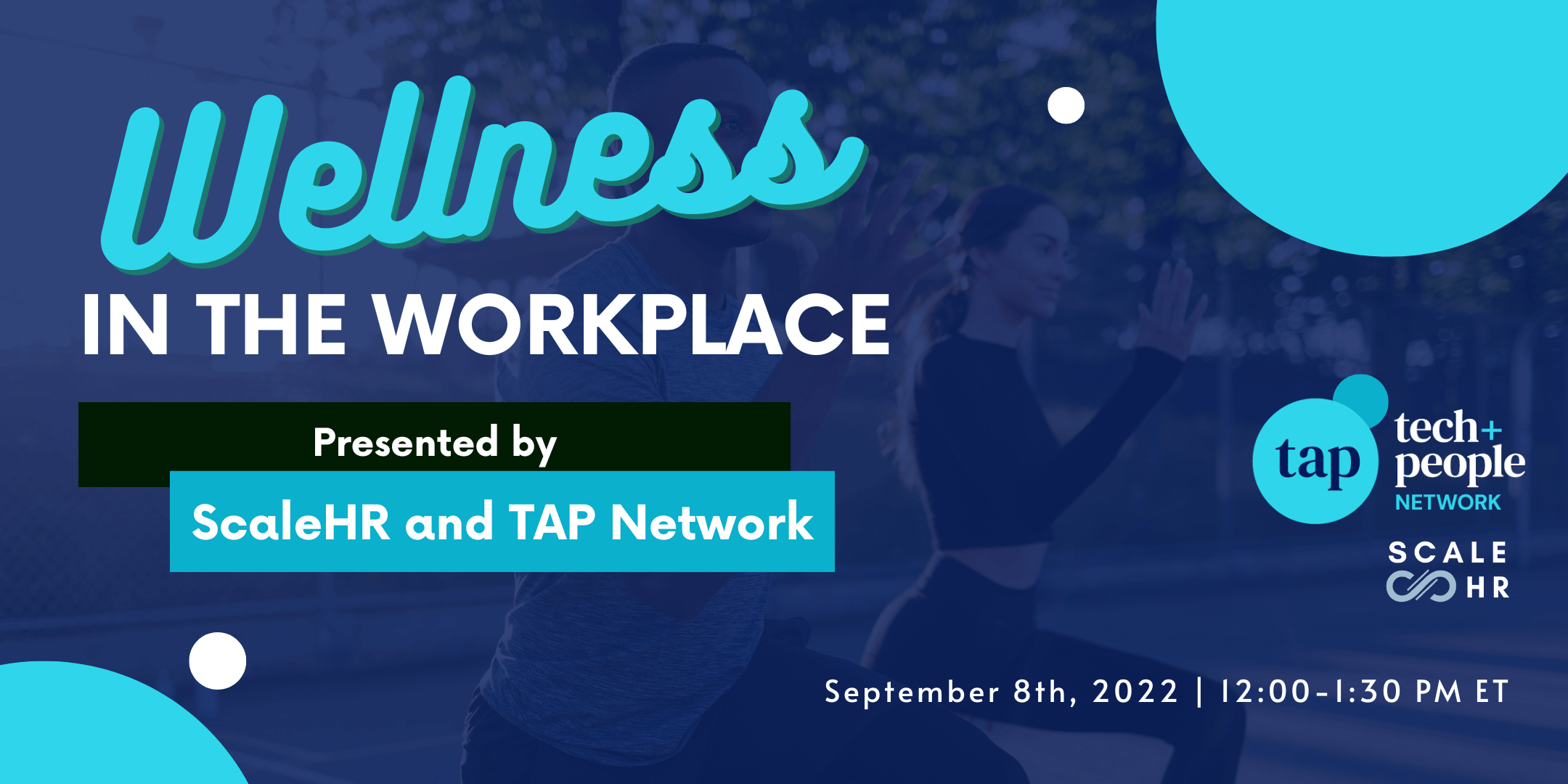 Employee wellbeing and wellness have been thrust into the limelight since the global COVID pandemic started 2+ years ago. Most organizations were forced to completely change how they operated their businesses; leveraging technology and placing a high degree of trust in their employees to work collaboratively, effectively and productively, while doing this remotely. Everything changed. The methods and practices that organizations used to support their employees achieve success, needed to change. Leaders could no longer walk down the hallway and check in on their employees, or frankly, employ many of the leadership tactics that served them so well before the pandemic. Fast forward 2+ years and what have we seen? What have we learned? Simply put, employee wellbeing and wellness are still at the forefront of organizations. According to leading HRIS vendor, bob, "wellbeing is fundamental to mental stamina, emotional intelligence, and resilience in the workplace. Wellbeing is the bedrock of success, performance, productivity, engagement, and creativity".
Learn how to implement employee well-being into your total rewards with our free guide.
Recently, on September 8th, in partnership with the TAP Network and Tech Talent Canada, we ran our 2nd ScaleHR Talks session – diving into "Wellness in the Workplace". We had several really interesting conversations in the break-out sessions, and below, are the key takeaways.
Buy-in for employee wellness and wellbeing is still not where it needs to be. Simply making statements without "walking the talk" will not achieve desired outcomes. HR leaders are still tasked with building business cases before designing and implementing strategies and initiatives. There appears to be a perpetual never-ending state of "talking about it". We need real and concrete action.
We cannot let up and undo the great work that we have done. Many HR leaders have worked tirelessly to bring employee wellbeing and wellness to the forefront, and it appears to be a unanimous sentiment that, just because things "are getting back to normal", does not mean that we undo the great work that we have done. Many of the strategies to promote and protect employee wellbeing and wellness will always be relevant – pandemic or no pandemic. Organizations need to continue giving their people what they need, show that they genuinely care about their wellbeing, and ensure wellbeing is fully integrated into organizational strategy.
Tweaking benefits plans is proving to be a challenging undertaking. With so many options at our disposal, and dealing with tight financial times, it's been quite challenging for HR leaders to gain clarity on how they should be improving their employee benefits offering. This is why working with a trusted broker who will work hand-in-hand with you to design a plan that works for your organization, is crucially important. It's also critical that HR leaders analyze existing plan usage, have a full understanding of their employee demographic profile (current and what may change in the near future), and leverage data to make smart and strategic decisions.
While stand-alone initiatives help, what's more impactful is embedding wellbeing into HR strategy. Think about how meaningful change happens in organizations. It was never due to a single event. It was always about a long-term commitment. Change is hard work – if it was easy then why do so many organizations struggle at implementing lasting change? There are no quick fixes when it comes to changing a workplace culture that values, promotes and protects employee wellbeing.
It's about flexibility, flexibility and more flexibility. Generation Z entered our workforce a couple of years ago, and we now have more generational groups than ever before. The needs, wants and desires have never been more diverse. This diversity is pushing for extreme flexibility in what we offer employees, and how we run our organizations. Take a look at how we make purchases of products and services. We can virtually customize our purchases based on our specific requirements – think about a new mobile device, car, etc… Organizations need to offer flexibility in everything they do when it comes to the employee experience – compensation, benefits, variable compensation, employee support programs, etc…
We have a long way to go to truly embed employee wellness and wellbeing into our strategies. It requires a shift in our thinking and mindset and changing how we design and implement modern-day HR strategies. It does require hard work, dedication and a commitment to implementation. It may require some difficult conversations to be had with business leaders, but we think it's a fight worth fighting. After all, the wellbeing of your employees comes first, before anything else. You can have the best product in the world, pay your employees well, and offer many cool perks, but if your employees are burning out, or struggling with their wellbeing, your organization will have a difficult time succeeding.
Join us for our 3rd and final ScaleHR Talks session of 2022
Our 3rd virtual event of this mini-series in partnership with the TAP Network and Tech Talent Canada will be taking place on October 4th from 12-1:30pm ET. Please register by clicking HERE. The topic is the 4-Day Workweek.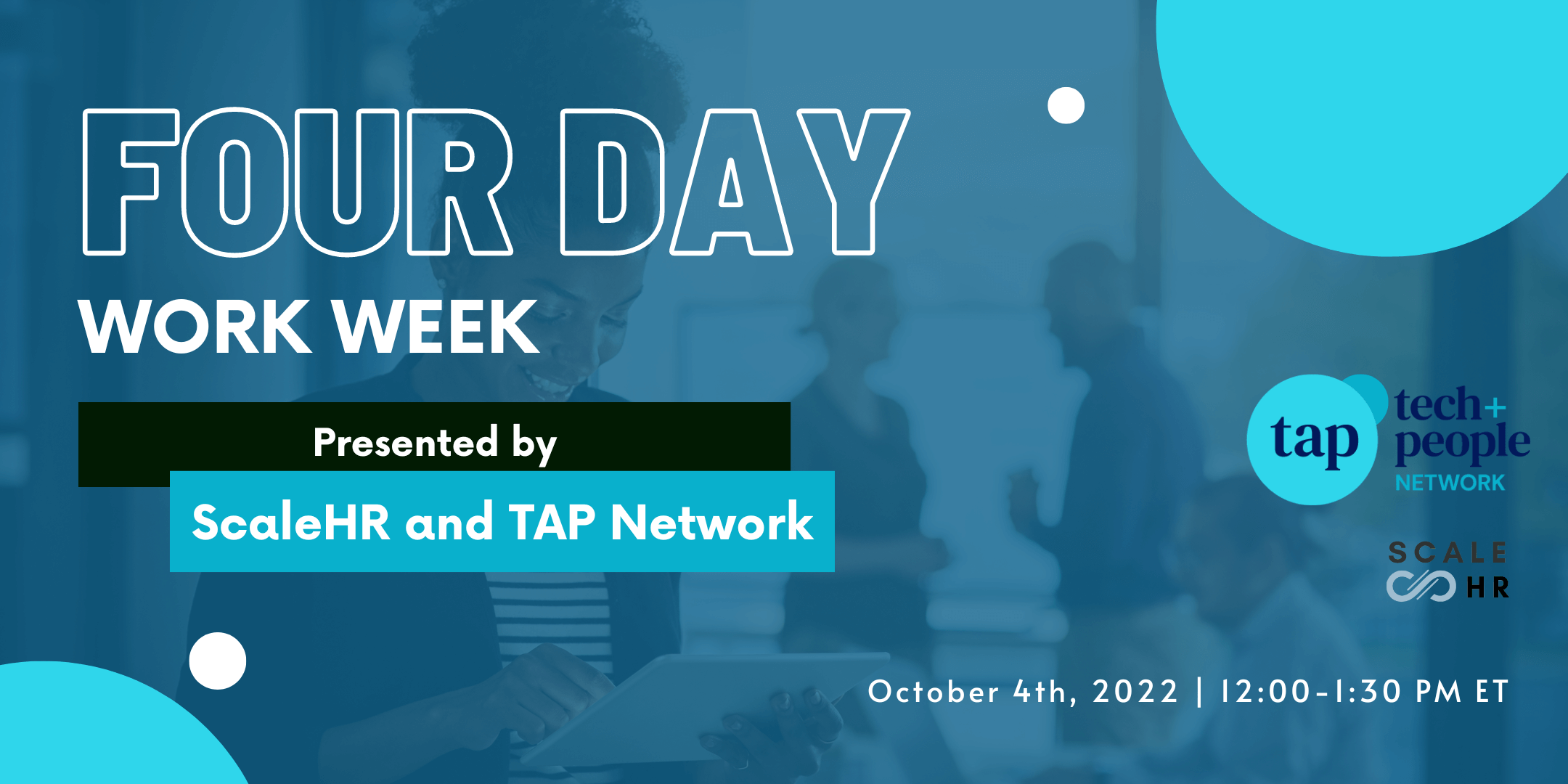 Upcoming conference for HR in Tech, in Toronto
The TAP Network is bringing its popular Tech Talent North conference to Toronto for the first time, taking place on October 18, 2022. Join your peers and register your spot today – click on the image below.