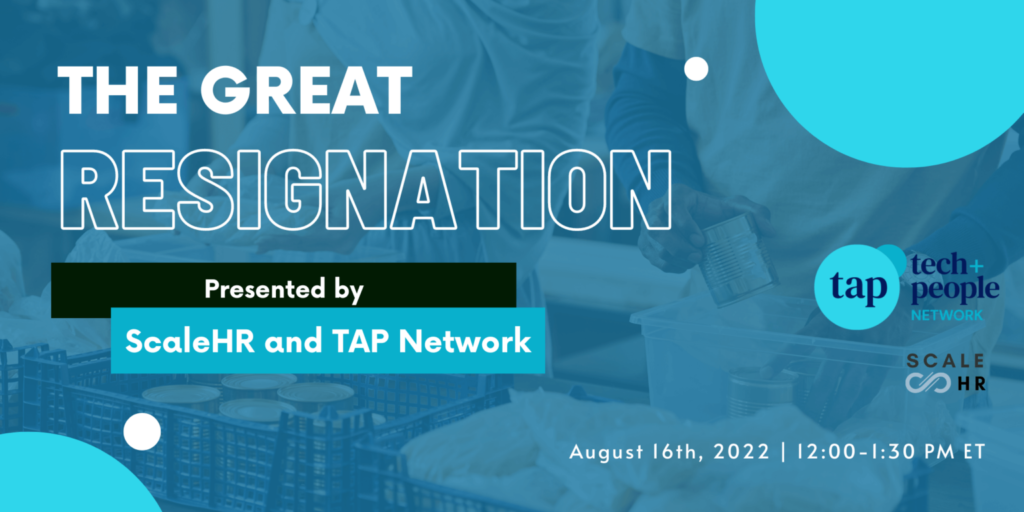 On August 16th, 2022, we ran our first-ever virtual ScaleHR Talks event, and we couldn't have asked for a better partner in the TAP Network. Vancouver-based HR expert and leader, Charlyne Fothergill, teamed up with ScaleHR Founder Jeff Waldman to deep-dive into "The Great Resignation", specifically what the data and research is telling us and what we as HR leaders in the tech industry needed to do to solve this evolving and complex challenge. In addition to presenting quality research, the participants broke out into groups of peers to come up with strategies and ideas on how to tackle "the great resignation". Each group was provided with the same instructions and questions that helped them maximize their group work efforts.
The TAP Network undertakes many research initiatives on various topics that are front and centre for HR leaders and practitioners in the Canadian technology industry. Note that TAP Network's 2022 Salary Survey will be coming out in September 2022. The key trends that Charlyne presented were very interesting.
Learn how to implement employee well-being into your total rewards with our free guide.
We saw many "increases" in 2022 over 2021 – headcount, voluntary turnover, competition for top talent heating up and spending on bonuses. Further, increases in overall spending on base salaries, and mental health support, and employees realized more flexibility in where, how, and when they worked. Normally, one would think that with so many things improving, getting better or increasing, employees would be more satisfied, engaged and content. Well… that's not really the case and it's an industry-wide problem.
We then split the participants into small groups and asked them to discuss the following questions.
Overall, what were your thoughts on the presented data, and how does it relate to what your company is experiencing?
How is your company responding? What have you done, or what are you planning to do?
What lessons have we learned?
Has the cooling of the market impacted your current or future initiatives regarding talent attraction and retention?
The Key Takeaways
The conversations among the event participants were fantastic. It was nice to see the "HR in Tech" community put their minds together to help one another. Based on the notes above, a lot was covered and what the tech industry is currently faced with is complex, challenging and unprecedented. Below are the key takeaways and lessons learned from our conversations.
Money alone will NOT fix your problems. Yes, you need to compensate people fairly, equitably and competitively, but if you are already doing that then simply throwing more money at your employees likely won't solve the core reasons why your employees are considering leaving your organization. Focus on the root cause and find solutions to fix them.
Offer more flexibility to your employees. Come from a place of "I trust my employees" and provide them with more flexibility and freedom to make their own decisions on where, when and how they work. If the pandemic has taught us anything, forcing your employees to commute 1.5 hours each way to a physical office 5 days a week is not ideal. If you don't offer flexibility, other organizations are and your employees will go work for them. They already are.
Employee engagement drivers have not changed. It's interesting to note that, while the world has been turned upside down and all around, notably how, when and where we work, what really has not changed are the key factors that drive strong employee engagement; recognition, career growth and opportunities, employee feedback and transparent communication, leadership, etc… It could be argued that organizations need to focus more attention on these key drivers, not less.
Employee wellbeing is now part of your responsibility. We have talked for a long time that the employee experience is what matters. This is still very much true, but now, with more people working from home and the lines between personal and professional being more intertwined than ever before, organizations need to ensure the entire employee is cared for and respected. For more information on employee well-being take a look at Gallup's 5 Elements of Wellbeing.
More than 2.5 years since the COVID pandemic hit our shores we are still grappling with its crippling effects on all aspects of our lives, notably, work and employment. While we may think the future looks bleak, as an industry, we are making progress and that's all we can do. Keep leaning on your HR in Tech peers, collaborate with one another and push each other to more progress.
Upcoming conference for HR in Tech, in Toronto
The TAP Network is bringing its popular Tech Talent North conference to Toronto for the first time, taking place on October 18, 2022. Join your peers and register your spot today – click on the image below.